---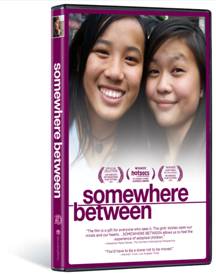 SOMEWHERE BETWEEN DVD
2-Pack Set Now Available for Purchase!
The award-winning film, which chronicles four adopted teenagers from across the United States as they share their stories about family, race and identity, is now available for purchase. The 2-disc set includes a bonus film, Beyond Somewhere Between, which features interviews with adoption professionals speaking about some of the challenges that international adoptees face in the U.S.
Docurama Films will automatically give our organization 10% of every sale.
Synopsis: In profiling Chinese adoptees in contemporary America, this deeply moving documentary from Linda Goldstein Knowlton (The World According to Sesame Street) illustrates that even the most specific of experiences can be universally relatable. Of the roughly 80,000 girls who have been adopted from China since 1989—a decade after China implemented its One Child Policy—the film intimately follows four teenagers: Haley, Jenna, Ann and Fang. These four wise-beyond-their-years yet typical American teens reveal a heartbreaking sense of self-awareness as they attempt to answer the uniquely human question, "Who am I?" They meet and bond with other adoptees, some journey back to China to reconnect with the culture, and some reach out to the orphaned girls left behind. Issues of belonging, race and gender are brought to life through these articulate subjects, who approach life with honesty and open hearts.
Reviews from adoptive parents and adoptees:
"Just finished watching both movies. Beyond was very thought provoking…It was really nice to see and hear what some adoptees go through. I know that my wife and I will be there when our girls have those questions, and it will be nice to have something that we can show them when they do and we can show them they are not alone."
"I watched the film! Love it! I'm also adopted from China! So it was great to see and hear others history or thoughts about being adopted from China! Love from Norway!"
"I got my copy from Amazon yesterday and I've watched it twice already, once with my Mom. My soon to be five year old daughter is from Jiangxi Province. What a wonderful resource this is for me as a Mama to a Daughter of China. I plan to watch this with her when she's older. Thank you for making this powerful documentary."
**The filmmakers recommend the film to teenagers, aged 14 and up, due to the fact that a lot of emotional drama unfolds as the girls search for their identities, both in the US and China. The director is sensitive to the tensions associated with the search for one's birth parents, and the effect that seeing these tensions and conflicts unfold on-screen may have on younger adoptees. However, it is of course every parent's right to decide what's appropriate for their child at any age.